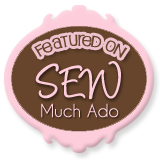 Yay! I'm so excited that my
Initial Platter
post was featured today on Sew Much Ado! How fun!
I have been super busy lately trying to tackle all these craft projects that it has become alittle overwhelming! I just keep telling myself to do a little each day & it will get done! I can't wait to share them all with you too! So here's a little craft list of all the things I'm working on....
4 Pillow covers for Formal Living Room
4 Curtain Panels for Formal Living Room
Personalized Pillow for Fritter
Curtain Panels for Fritter's room
Flower canvas for Fritter's room
Recover chairs for sewing room
Finish cushions for Fritter's table chairs
Re-paint hand me down book shelf & baskets for Playroom
Breathe in, Breathe out....Oh my! I better go have a couple more cups of coffee & start marking things off this list! Wish me luck! :-)
Can't wait to show ya'll!
And of course, I can't have a post without Fritter...Here she is playing with her best bud, Drew, on her new bed! :-)
Happy Wednesday!